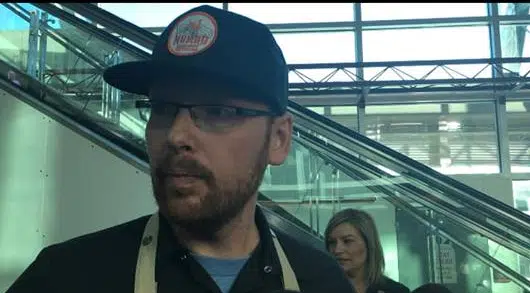 If your friends and family fly-in and out of our local airport, they'll now be able to get a taste of Thunder Bay.
As an example the departure lounge will be home to the Nomad Cafe and Spokesperson Nikos Mantis tells us they'll be offering a number of local goods.
"We do a smoked Lake Trout poke which is essentially like a sushi burrito, with Lake Trout from Lake Superior.  We will offer a local charcuterie so we have cured meats and cheeses that are made right here in Thunder Bay."
Mantis says they'll be offering a number of local food items partnering with local companies.
"Working with Slate River Dairy we are carrying their milks and yogurts, two different coffee roasters, we are working with St. Paul Roastery and Rose N' Crantz.  We are working with a variety of local meat producers, Thunder Oak Cheese Farm, and  Sleeping Giant Brewing Company, we'll be carrying their local craft beers."
Airport CEO Ed Schmidtke tells us they will be gradually moving away from the national brands like Tim Horton's by February 1st.
Eat Local Pizza will be occupying a space in the airport as well.
The CEO of the airport wouldn't reveal the cost of the commercial deal saying it was not part of his discussion with the media.