Christmas time was always an exciting time as a kid for a number of reasons.  You would get time off of school which was always awesome and you would get the toys you wanted all year.  We grew up in a lower income family and my folks couldn't afford to get us any toys during the year but they always gave us cool stuff at Christmas.   My list to Santa was most times a mile long, I wanted every Transformer, G.I. Joe, and He-Man toy and every toy I saw on T.V.  There was no way that I was going to get everything that I wanted and I understood that.  There was 2 items in particular that was on my list from when I was 5 to now.  I never got a Nerf gun…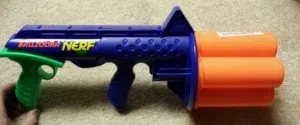 or a GT Snow Racer…
and I never knew why.
It's not like our house was a no "toy gun" zone, I had a ton of army stuff… most of it the cheap stuff from the Dollar Store.  The GT Racer was also a little pricey and that's probably why I didn't get it, well that and I would probably kill myself taking it off stupid jumps.   I told my wife and really anyone who would listen that I always wanted these two items and never got them, last year my wife went out and bought me these two beauties…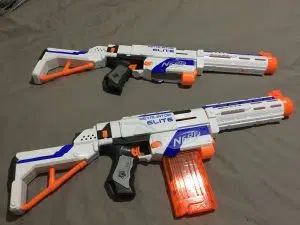 I have the best wife ever… just hoping for that GT Snow Racer under the tree this year… hint hint, wink wink, say no more say no more
What Christmas Gift did you always wanted and never got?
This is Pat's…
Trent