It was just announced today that the great city of Seattle, Washington will be getting a NHL team for the 2021 season.  That will make an even 32 and the same amount of teams in each conference.  I always thought that Seattle would be a great market for hockey… it's so close to Vancouver and that should make a great rivalry.  They are a long way from naming the team but I thought it would be fun to spitball some ideas.
My Suggestions:
The Fish Mongers-They have the large Pike Place Fish Market in town.
The Coffee Beans-Seattle Known for their coffee and is the hometown for Starbucks
The Grunge- It is the birth place of the grunge music scene.   The name would be just like the Minnesota Wild or the Colorado Avalanche… The Seattle Grunge
The Umbrellas- I admit it's a little weak, but it does rain a lot
The Space Needle… uhhh ers?-Also not my best idea.
Your Suggestions:
Douglas- Seattle Saddle Tramps
Tom- Seattle Lumberjacks
Matt- Seattle Totems
Tim- Seattle Snipers. In the lumber industry a snipe is a piece cut of the end of the log. And a sniper is a "sharp shooter".
Jayme- Sea stars or Stingrays
Dave- Buccaneers
Dorthy- The Seattle Shadows
Cory-The Soggy Bottom Boys
Wayne- The Sea Otters or The Sasquatch… might look like this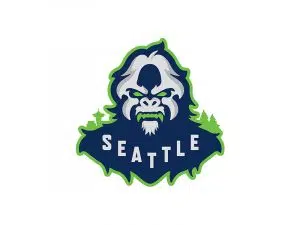 These were two ideas that the readers of the Seattle Times came up with…