Last night we got a couple of centimetres of snow that needed to be removed from driveways, sidewalks, decks, patios and wherever else it landed that you don't want it.  If you are like me you will do just about anything but shovel the snow.  I have come with a list of unpractical ways to remove unwanted snow without picking up a shovel.
-Leave it.  Eventually after a few wet shoes and pant legs you will have created a nice little goat trail from your door to your car.  If you are lucky someone else will do all the work for you like the mailman… they love that.
-Get a neighbour kid to shovel for you, I'm not sure what the going rate is but I'm sure two-bits should be close
-If there are no teenagers on your block then maybe there is a neighbour who has a snowblower.  This trick takes a little back work that you might want to start in the summer.  First you need to snoop through your neighbour's shed and garage to see if they even have the right equipment, make sure you're nonchalant about it.  Then chat them up over the fence, compliment them on their yard, invite that neighbour over for barbecues and beers.  When that first dump of snow arrives your new pal will just zip over and snowplow your driveway when they do theirs.
-Get your kids to do it.  That's why we have kids right?  My 5 year old doesn't listen to me anymore so I'm working on the baby… it might take a little while.

-If you own a helicopter you can land it on your driveway and all the snow will just blow away.  However, if you can afford your own chopper than I'm sure you could afford to pay someone to clear it for you.
-You could pour boiling hot water on the snow
-Use a hair dyer
-I see a lot of people use a leaf blower.  That's smart, just blow it over to your neighbour's… the one that doesn't have the snowblower you want to borrow
-Andrew texted in and suggested putting a plow on a remote control car… brilliant Andrew!!!
-You could also rig up something like this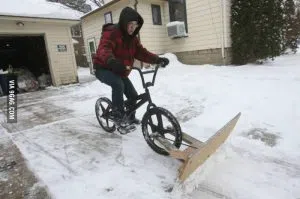 Whatever you do be safe and have fun.
Trent