The big day is tomorrow and even though I'm in my 40's I still get excited for Halloween.  As a parent it's fun to watch my little guys dress up and have fun but to be honest I love the candy.  My son will let me eat from his trick-or-treat bucket but my wife and I always buy way too much so there is always lots to eat.  Candy has changed quite a bit since I was a kid.  The most obvious is the size of chocolate bars in the last 10-15 years,  I realize my hands have got bigger but come on, the chocolate manufacturers are not fooling anyone.  Also, some of favourite Halloween treats are no longer available, did anyone else get chocolate cigarette in your pillow case?
I have compiled a list of my favourite Halloween Candy, some of it you don't see anymore and others you'll think I'm crazy for liking.
-Rockets.  Oh I love these little sugar filled capsules.  In the states they are called Smarties but here in Canada we call them Rockets because after eating 6 packs of them you will rocket around the house.  I always pretended that there were my medicine and I needed to take them. If I would have taken anymore I would have to take medicine now… insulin.

-Tootsie Rolls.  These guys were usually as hard as rocks but I loved them.  I think the reason why they were my favourite was because my sister hated them and I got all of hers.  It also grossed people out when I would open my mouth mid-chew, liked doing that for some odd reason.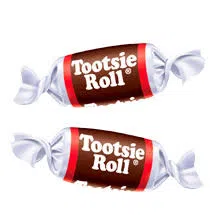 -Runts or Nerds.  It wasn't very often we find these in our Halloween loot in the mid 80's but when we did it was AWESOME!!!  Runts are the hard little candies that look like fruit so as I kid I thought they were good for me.  Just to clarify… they are not.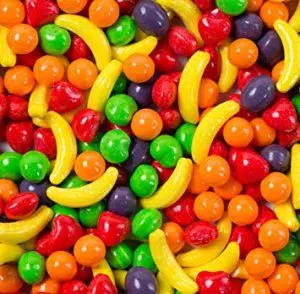 -Wagon Wheels.  I don't think many will agree with me but I love these circles of joy.  My friends would complain we got them at Halloween because most our Moms would buy them for regular snacks but I didn't care.

-Sour Patch Kids.  My friend would give me his pack of sour kids if I ate them all at once as a dare, the challenge was always accepted and always regretted afterwards.

-and the ultimate Halloween treat…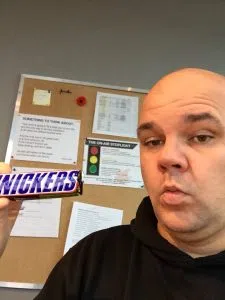 Not just a Snickers but any full size chocolate bars.  If you found a house that handed those out you hit the jackpot.  You would remember that place and no matter how far it was from your house you had to hit them up every year.
What was your favourite Halloween treat as a kid?