Today is a PA Day for Catholic students in Thunder Bay.  These were magical days for me growing because I was never a fan of school.  However once in a while I would get bored and do the old "there's nothing to do" line to my Mom or babysitter.  Mom would never put up with my BS, she would always retort with the classic line "Oh I'll give you something to do… go clean your room."  After awhile I wouldn't tell my parents that I was bored, I would just find my own fun.  Playing with my G.I. Joes was always a good time, bugging my older sister provided lots of laughs until she punched me or worse told on me.  I would also make my own concoctions in the bathroom. I would mix together mouthwash, shaving cream, shampoo, toothpaste, old spice, and anything else I could find and put it all in a dixie cup and then throw at in the bathtub and watch it explode.
Now a days it seems like kids don't find their own fun as much.  We live in a instant world… we get our food fast, we can watch our favourite shows whenever we want and we can talk to our friends via texting all day long.  Kids don't have to wait anyone and expect everything to be given to them.
To help out the young people I have come up with a list of activities for them to do today to pass the time.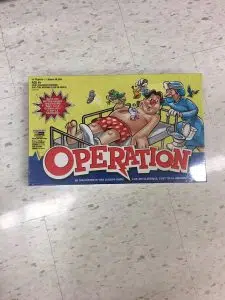 Play operation blindfolded, make a paper boat, race paper boats in the gutter, draw a happy face on an umbrella, bake cookies, eat cookies, plan a scavenger hunt, play hide-and-go-seek, watch the entire series of the A-Team, build a rocket, walk the dog in the rain, wash the dog, dry the dog, clean the house, make a fort in the living room, learn how to knit, go to the conservatory, play in the mud, collect stamps, learn how to juggle cats, play sock hockey in the kitchen, READ A BOOK, duct tape your brother to the wall, build the Empire State building out of Play-Doh, dress up in your parents clothes, grow a moustache, make butter, do a 105 push-ups, paint your toe-nails, learn how to polka, play checkers, shine your boots, spin plates, go bowling, have a bubble bath, invent a new game like Chandler and Joey… Fireball!!!  Two-step with the cat, host a tea party and have crumpets, roller blade in the basement, make paper airplanes and fly them down the stairs, sing karaoke, play a 24 hour game of Monopoly, READ A BOOK or just learn from the master…