If you are a parent then you know that having kids takes a lot of work and a lot of stuff.  When it was just my wife and I we had so much free space for activities (let's build a bunk bed).  We had an office, a spare bedroom and even a whole basement with nothing in it.  Now with two little ones under the age of 6 our house is jammed packed full of crap, literally and figuratively.  Every room in our place has something in it for the kids.  Our Dining room is a playroom with a table tucked in the corner

Our bathroom is loaded full of weird creams, soaps, bubble bath, and shampoos… but that's not really new as my wife invaded my bathroom with that stuff long ago.  The big bucket of toys is new.  So is the box of baby wipes, diapers and kids towels.

The kitchen has also been taken over.  The kids have their own plates, cups, utensils, and special food.  We have so many sippy cups they have taken over my wife's wine glass shelf.  It does seem fitting to have the kids cups right beside "Mommy's special happy time glasses"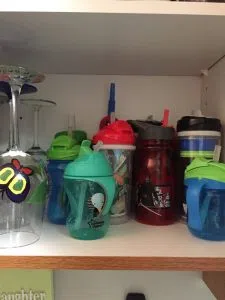 We have all kinds of things that folks without kids don't have and don't even know what the heck they are… like this evil torture devise.


I don't know the real name of this thing but I call it the snot sucker… cause that's what it does.  You stick the big blue thingy in your kids nose hole and put the other part in your mouth and then…. uhhh… suck.  Yes it is as gross as it sounds, maybe even worse.  I let my wife do this.  Don't get me wrong I love my kids but not that much.  I now know what Meatloaf was singing about in his song "…I would do anything for love, but I won't do that…"
Single people who come over to our place are also confused when they find this bag… they think we have a "problem"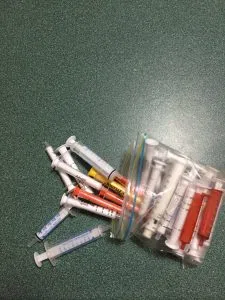 The only problem we have is sick kids.  Little ones get their own special medicine and you have to give it to them in a syringe.  Every time you buy a new bottle of kids Advil you get a new one.  My wife and I are cheap and we don't throw anything away, so we have lots of these.
Our single friends also get frustrated when they come over because everything is locked down like Fort Knox.  If you don't have young kids you probably don't have these on your cupboards… unless you have a very smart pet or a husband on a diet.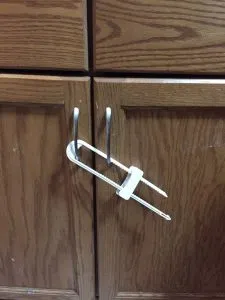 And not a lot kid-free homes don't have a baby gate… we like to call it baby jail.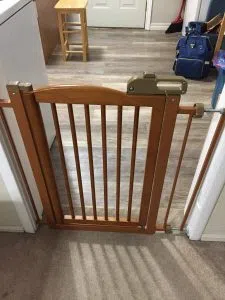 So being a parent means you will have a lot of extra things in your house, but that also means we get a lot  baby giggles, pillow fights, couch cushions forts, Sesame Street dance parties, splash fights in the tub and a whole pile of amazing memories.