Over the weekend there was a Thanksgiving miracle at my house… I had a nap!  It was an hour long, uninterrupted glorious siesta.  I had my favourite blanket, I was in my own bed and I  fell asleep right away, it was perfect.  After my little shuteye I felt great too, which doesn't always happen.  Sometimes after a mid-day snooze I feel worse and want to sleep longer, not this time.  I think the most impressive thing was that I got to nap as long as I wanted, no kids jumping on me, no dogs whining, didn't get a text from my sister, no neighbour cutting the lawn and the wife didn't come in with her hand on her hip and ask "Are you planning on sleeping all day?"
Last week I wrote a blog about the small things in life that I am Thankful for and I forgot to put down naps, I think it's because it had been so long since I had a good one.  Many studies have been done over the years to prove that napping for 20 minutes can help refresh the mind, improve overall alertness, boost mood and increase productivity.  Unfortunately some people can't take the mid-day intermission, either they don't have time or their bodies won't let them.  If I have the time I can sleep anywhere.  I have napped in the trunk of a car, in a park in Seattle, at a busy Denny's, at a party (had some liquid help on that one) and at work… many times.  My wife on the other hand can not doze off in the middle of day, it has to be completely dark and absolutely quiet… needles to say she is tired most of the time.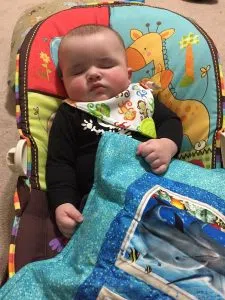 My kids are also bad nappers, which is another reason why I don't get to take too many siestas.  My oldest stopped napping when he was around a year old and now the baby has decided that he also is done with the sleeping.  Driving around in the car used to be a foolproof way to knock them both out but they have become wise to our tricks, the force is strong with them.  The baby now has a glorious time of the day affectionately called "Hell Hour" aka supper time.  He is so tired that he loses his mind and screams at us while we are trying to eat.  We often give up and put him to bed worried that the little bugger didn't get enough to eat.  If I had hair I wouldn't after a few of these "fun" meal times.
Occasionally the boys will give us sweet moments like this… but don't let this picture fool you they are just playing.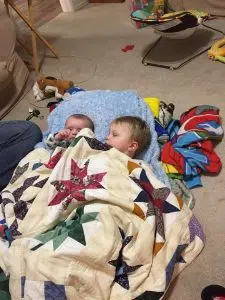 A radio DJ in Edmonton used to give out the Nap Index when he would do the weather report.  On hot sticky days the NI would be low like a 1 or 2, as in bad conditions for napping.  On cold rainy days the NI would be high, perfect for getting forty winks.  The nap Index is a made up thing but if it was real today would be a 10.  If you can, I hope a nap is in your future… Like a awesome power nap like this:

Happy Napping!
I leave you with this inspirational quote I found on the inter-web:
Taking naps sounds so childish,
I prefer to call them horizontal life pauses
-anonymous