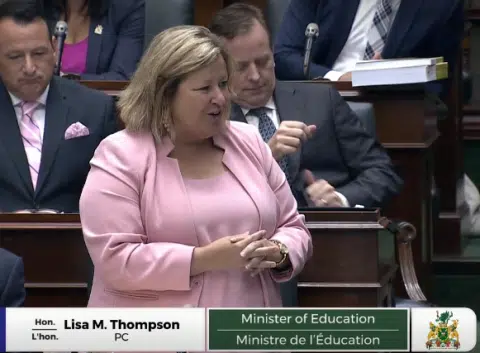 You can now have your chance to comment on Ontario's education system, including the controversial sex ed. curriculum.
Education Minister Lisa Thompson says they have launched an on-line survey to gather public opinion.
"I would like to remind every member in this house that our education consultations are now open.
We are welcoming written submissions, we're encouraging all parents (and) teachers" to join in the discussion.
The issue has become a lightning rod for those who want to retain the sex education curriculum which was introduced by the previous Liberal government in 2015.
They claim it teaches students the truth about sexual orientation, gender identity, consent, and the realities of the social media world.
Opponents are concerned about how explicit the curriculum is especially on issues of masturbation and homosexuality.
The Ford government has returned schools to what was being taught from 1998 until 2014  until those consultations are complete.
To take part in the on-line survey you can follow this LINK.