The Fall Television Season is almost upon us. It doesn't seem to be as big of a deal as it did 10-20 years ago.  There are just too many shows on too many platforms and it is a lot easier to watch T.V. these days.
I remember as a kid being very excited for my favorite shows like Knight Rider and Dukes Of Hazard to return and for new show like Macgyver to debut.  Mom and Dad would get the Sunday paper just so we could get the T.V. Guide and than we would plan out our lives.  You couldn't just go out on a weeknight whenever you wanted… you might miss something cool.  You  didn't want to be "that guy" who  didn't know about the cool gadget the A-Team built the night before.  The only night that it was safe to do something was Saturday… that was the night that shows went to die.  Every Saturday my Dad and I would go and wander the video store for hours to find something to watch that night… he would usually settle on something with Chuck Norris or Charles Bronson in it…
my Dad raised me right.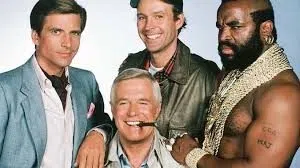 This was my weekly schedule in 1985
Sunday: Punky Brewster, Sliver Spoons, Macgyver and Murder She Wrote
Monday: Kate & Allie, Newhart (slow night… I would play with legos a little longer)
Tuesday: Growing Pains, Who's The Boss, A-Team and Moonlighting
Wednesday: Golden Girls, Air Wolf, St. Elsewhere
Thursday: The Cosby Show, Family Ties, Cheers, Night Court, Magnum P.I. and Simon and Simon
Friday: Webster, Mr. Belvedere, Different Strokes, Benson, Knight Rider and Miami Vice
Saturday: We would rent an action movie or the odd time a comedy with John Candy or Chevy Chase
Now a days you just record everything and watch it when you can… But you still need to know when the shows are on and on what channel so you can set up the recording.  You can still find T.V. guide online but I miss the old printed version you would get in the Sunday paper.  It would be the end of the world if you lost that thing… it was almost more important than the remote.
This is our T.V. Guide now
Now only if our kids would lets watch these shows…
Happy T.V. Watching Everybody