Sometimes cleaning up a toxic dump is easier than cleaning up after your kids… especially on a rainy Saturday after 8 hours of straight playing.  My wife and I should enforce the "clean up as you play" rule but lets be honest by the time we get to Saturday we don't care if our kids play in traffic.
Late on Monday evening after a visit from City Health officials, we finally decide to clean up.  Sometimes we get the older boy to help but that is usually a bigger struggle than just doing it ourselves.  We grab the rubber gloves, the face mask, some tongs and follow these easy steps: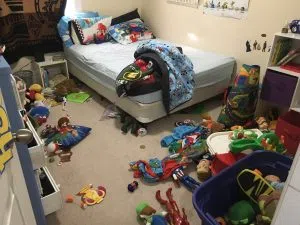 Step 1:  Separate the toys from the non-toys… like the kitchen utensils, cardboard boxes, shoes, hair brush, scraps of paper, cheese slices, dvd cases, the dog, books, blankets, the spice rack, curling iron… etc
Step 2: Remove toys and other said items from odd places… like the stairs, the bathtub, kitchen counter, microwave, fridge, behind the T.V., under the couch, the porch, the dog.
Step 3: Clean up food… from the table, the highchair, the floor, the baby, in the babies pants and diaper, the wall, the roof, the couch, behind the T.V., the dog.
Step 4: Drink