I've been a Dad now for almost 6 years and it has been an incredible journey, not always easy but very rewarding.  Before we had kids I thought I knew everything there was to know about being a parent, I watched my parents and my sister do it… how hard could it be?  I quickly learned that I knew nothing, I mean jack squat.
Having kids and two young boys is probably the hardest thing I've ever done.   Every day I do something I thought I would never do and say the weirdest things I thought I would never say.
Here are a few of the things I've said over the last 5 years that I never thought would come out of my mouth:
-Please don't lick the dog
-I think I just got poop in my eye
-Is that a cheerio in your ear?
-Why is there lego in your pants?
-Don't stick that in your ear… and not in your brothers ear… no not in the dog's ear either
-Ahhh I've seen this episode of Paw Patrol… that crazy Chickaletta
-No you can't have Chocolate for supper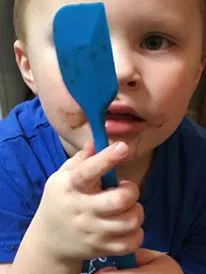 -Did our son poop today? What did it look like?
-Please don't draw on your tongue
-No you cannot shower with Mommy
-Take the dog toy our of your mouth please
-Are you done pooping?  What colour was it?
-Stop grabbing your penis so hard you're going to rip it off
-Don't throw that chair at your brother
-Don't eat that grape… it was just in your diaper
-Did you wipe your bum after pooping?  Alright come here I'll do it
-Stop playing with Mommy's boobs
-Why is there a Super Mario toy in the fridge
-Don't fart in your brothers face… or my face
-Owww that's my neck fat
I just realized we talk a lot about poop in our house… according to a educational book we read apparently everyone poops.