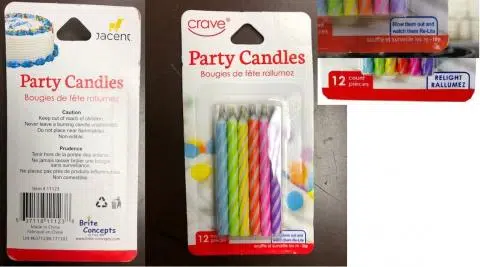 A brand of party candles has been recalled, due to the risk of fire.
Health Canada says Crave Party candles, purchased at Loblaw stores across the country can re-ignite after being blown out.
They are sold in packages or 12, and were purchased between February and August of this year.
Almost 7000 packages are affected.  The UPC is 637118111238.
Health Canada says they have had one report of the candles re-igniting.
Loblaw Banner Stores:

| Region | Store |
| --- | --- |
| Ontario | Joe Fresh® Standalone, Real Canadian Superstore®, Fortinos®, Loblaws®, Nofrills®, Your Independent Grocer®, Valu-Mart®, Gas Bar, Affiliate, and Zehrs Markets® |
| Atlantic | Atlantic Superstore®, Dominion®, Atlantic Your Independent Grocer®, Nofrills®, Affiliate, and Joe Fresh® Standalone. |
| Québec | Joe Fresh® Standalone, Maxi®, Maxi® & Cie, Axep, Intermarche, and Provigo® |
| West | Joe Fresh® Standalone, Real Canadian Superstore®, Real Canadian Wholesale Club™, Wholesale Clue®, Nofrills®, Your Independent Grocer®, Extra Foods® and Independent (Retail). |