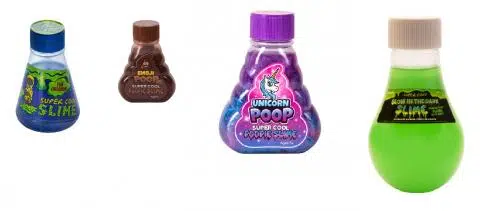 If you've recently purchased slime for your kids, you'll want to take a closer look at the label.
Health Canada is recalling Kangaroo's Super Cool Slime products.
Over 106,000 bottles of the slime were purchased in Canada from various retailers, between July of 2017 and this month.
Health Canada says the slime products do not meet the Canadian toy safety requirements and can be toxic if licked or swallowed.
If you find your child has this product, take it away and throw it out or return it to the store where it was purchased.
| Product | SKU | Item Number |
| --- | --- | --- |
| Original Slime | 10441 | 10422 |
| Emoji Poop Slime | 10451 | 10500 |
| Unicorn Poop Slime | 10499 | 10502 |
| Glow in the Dark Slime | 10498 | 10503 |